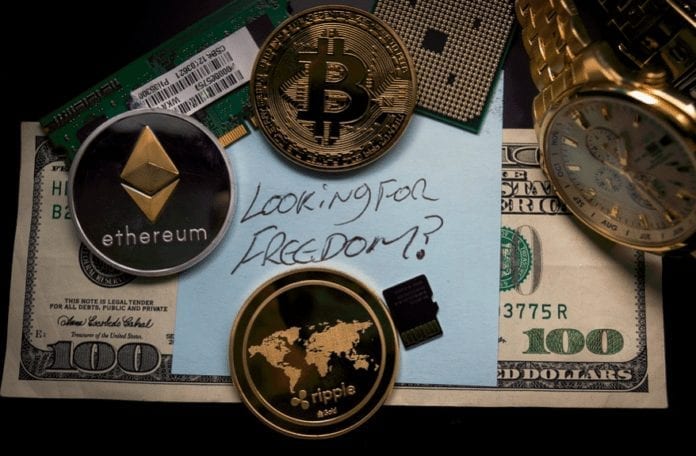 Thinking of Bitcoin as merely pseudo-currency is shortsighted. Bitcoin may actually hold a more secure pathway for exchanging money for goods. When you consider the history of currency, people once used shells as the most widely accepted form of "money," per se. We've come to a time and place in which we accept paper as currency – but its value is entirely dependent on our mutual, democratic agreement.
Will blockchain technology and Bitcoin stocks become the way of the future?
You may be surprised to hear how Bitcoin and other forms of cryptocurrency are now competing for a place in legitimate investments.
There is no physical form of Bitcoin currency – it is entirely digital running on blockchain technology. This form of currency is currently exchanged between people on the internet only. Blockchains are records of cryptocurrency transactions shared between peers on an web-based platform. Blockchain functions on thousands of "nodes," or, simply, computers, all over the world. There is no corporation or large financial institution running interference as "the middle man" for these financial transactions. Despite the community driven aspect of this form of exchange, the cryptography behind these transactions of codes makes for highly secure payments which are essentially anonymous.
A data hack-job on a blockchain transaction of cryptocurrency is virtually impossible.
When you consider the fees we all pay to use our agreed-upon financial institutions for the exchange of money for goods, blockchain technology stands a chance of revolutionizing our entire economical system.
Even the coder who first released the creation of Bitcoin back in 2009 did so anonymously, known by the pseudonym Satoshi Nakamoto. The original skeptics of this Bitcoin news doomed the blockchain technology as a way to encourage black market purchases rather than revolutionize the current concept of wealth. Some of the first reports about Bitcoin's invincible security claimed this was not entirely true. Like any burgeoning technology, vulnerabilities left open to hackers had to be penetrated and identified in order to improve.
Current investors are aware of the risks and mistakes bound to be made in the creation and regulation of blockchain technology prior to the potential widespread acceptance of this restructuring of finances.
We've still got a long way to go before you can buy blockchain cryptocurrency to pay for groceries.
The impact of blockchain infrastructure is likely to weigh more in value than individual cryptocurrency. This infrastructure concept has led to other forms of Bitcoin cryptocurrency – have you seen what's going on in Ethereum news?
Ethereum is a blockchain run platform which has its own unique language that some would say is more versatile, and therefor more desirable, than Bitcoin. Ethereum is not transferable – you can only use it on the Ethereum platform. The way you can buy a video game with Bitcoin will not be the way of using "ether."
Ethereum is not the only cryptocurrency attempting to make its way into our process of making purchases and the days of Bitcoin sitting at the top of the innovators of online "money" may be numbered as this collection of various types of cryptocurrency begins to stabilize. Many believe Ethereum is creeping its way in to seize the top position in cryptocurrency.
One of the more unique concepts behind Ethereum is the capability for consumers and businesses to include contractual limits and restrictions, not unlike parental internet controls, which apply to every transactions. Blockchain technology would, in essence, be capable of including a sort of self-enforcing contract to possibly include penalties for breach.
Ethereum cryptocurrency could be thought of as programmed money carrying all your financial priorities into every transaction.
In the same way parents might program parental controls over how much money their college student may withdraw per week, cryptocurrency could include embedded rules of usage. Anything which extends beyond the established parameters of use would require an individual's cryptography code or "key" to make the adjustment. This concept is predicted to have an influence in traditional banking procedures.
Some of the other forms of cryptocurrency gaining attention from enthusiasts and investors tout grander claims on the increased security and anonymity of their blockchain technology use. Other forms of cryptocurrency moving in on the blockchain news string include Monero, Dash, and Zcash. Each new variation seeks to improve the the capability of the transactions made to hide both the value of the exchange and the identity of the consumer.
Regulation of cryptocurrency and other factors impede the progress of widespread acceptance of blockchain financial exchange.
Among the factors delaying the adoption of cryptocurrency is transaction speed. Transactions made with Bitcoin must be verified by half of all the computers on the network which can take up to 30 minutes on average. Although Ethereum can deal with 13 transactions per second, this is not fast enough to serve up to 10 million potential users of cryptocurrency.
The great appeal of cryptocurrency is likely related to its operation outside of government regulation. The widespread use of cryptocurrency, should technology continue to improve to protect consumers and businesses, would require federal oversight. Investors supporting the future of cryptocurrency already have future contracts in the works to assist the process of widespread use of blockchain technology for financial transactions.