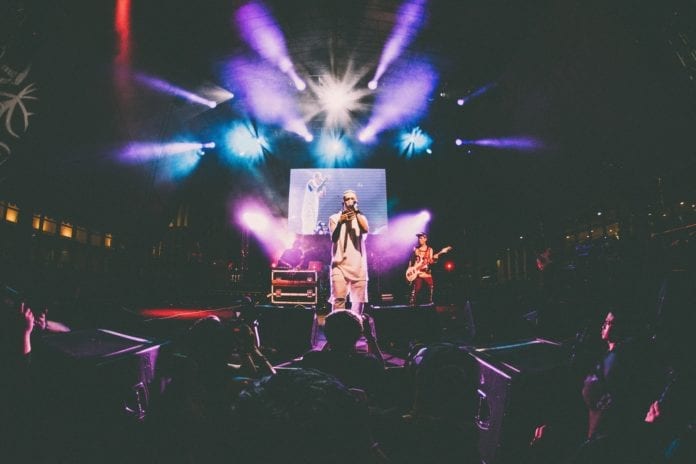 Back in 2013, rapper Big Baby Gandhi was immediately so fascinated by Bitcoin he made his first album, Debut, available for purchase using Bitcoin on Bandcamp. "I got like 30 bucks back then and didn't look at it again," says the Queens native.
When Bitcoin news exploded last year, Big Baby Gandhi found that his earnings from the album had quintupled which inspired him to research Bitcoin and blockchain.
"There's no central banking system, and that's the center of how a lot of political decisions are made," he says to explain how blockchain and his left-leaning values align. "All our problems stem from the fact that you have these large powers who make moves based on corporate interests."
While there wouldn't seem to be an immediate connection between Bitcoin and hip hop, the two actually share some common values. Rap promotes entrepreneurship and self-reliance, underscored by a distrust in authority due to the role racism plays in oppressing communities of color economically, socially, and legally.
Prominent rap artists' growing involvement with cryptocurrency is helping blockchain gain mainstream traction outside the recording studio.
50 Cent, for instance, once boasted that he took a Bitcoin payment that earned him $7.5 million. Another artist, Nipsey Hussle, is an L.A. rapper whose album recently reached No. 4 on Billboard, encourages fans to invest in Bitcoin; he told XXL that Marc Ecko, founder of the hip-hop publication Complex, introduced him to cryptocurrency in 2013. Even Wu-Tang's Ghostface Killah is a Bitcoin enthusiast.
Companies are now capitalizing on how rap artists have a knack for making cryptocurrency seem cool since they are tastemakers followed by millions. G-Eazy recently partnered with the new coin Monero and accepts it as payment in his online store as one example.
"Successful rappers are good businessmen — and any good businessman or woman is going to exhaust all options of expanding their portfolio and expanding that bag," explains Oakland rapper Beejus. He claims his own recent cryptocurrency investments were successful enough to fund his next vacation.
Many tech industry insiders feel blockchain will revolutionize daily life much as the internet has done.
We touched on some of these issues before in How Blockchain Could Reach Beyond Cryptocurrency Into Everyday Life.
Beejus is determined to use his own podcast to educate his community about Bitcoin and blockchain to help others get in on the ground floor. "I wish that people in my community were talking about, 'You gotta invest in this thing called Google, you have to invest in this thing called Microsoft,'" says Beejus. "There was nobody doing that. So if I have a little bit of understanding about it, I want to spread that knowledge."
"A lot of the people who were profiting [from cryptocurrency] a couple years ago were alt-right people or white gamer types," further elaborates Big Baby Gandhi. "If rap exposes it to a different part of the population, then you'll have people who have this chance to make money that wouldn't have."
The marketing of cryptocurrency within the rap world seems to have had had an impact as the majority of Bitcoin users — 58 percent — are young men of color.
But cryptocurrency is about more than an investment opportunity.
"People in the music industry that understand what blockchain is and cryptocurrency is, I think they see the value in the fact that the ledger is not held by one person, it's held by everybody," explains 10mTony. "When I think about that, I think about the fact that in music, you have all these record labels that own the song or your album or the publishing rights, but with cryptocurrencies and blockchain, you could potentially take that out of their hands and into the public sphere."
Besides using cryptocurrency as payment, other potential applications of blockchain in the music industry include ticket sales, streaming services, and databases and marketplaces for publishing rights.
Several startups, like Aventus and PassageX, have launched new ticket-selling platforms that use a blockchain to combat price-inflation and counterfeiting.
Meanwhile Resonate, a new, cooperatively-owned music streaming service still in beta phase, uses blockchain to make streaming more advantageous for artists and users alike by operating on a model called stream-to-own.
"One of the biggest problems in the industry is the length of time it takes to pay artists. Sometimes it can be three to four years," explains Resonate founder Peter Harris. "There's a lot of inefficiency in the industry in the maintenance of the records, the list of rights, and who could get paid for their work. With blockchain, you could get to the point of having a single database. And if you could automate the collections processing of that data, and then payments, everything could move much faster."
Harris also says that Blockchain could keep artists from losing followers when they change platforms by creating an independent network. 
Nate Kodi, is an L.A. rapper and producer who recently joined Resonate for this very reason. "I think blockchain technology will give more power to actual musicians and artists in general," explains Kodi. "When you put something on the blockchain, it can't be changed, so it's sort of like a copyright protection in itself."