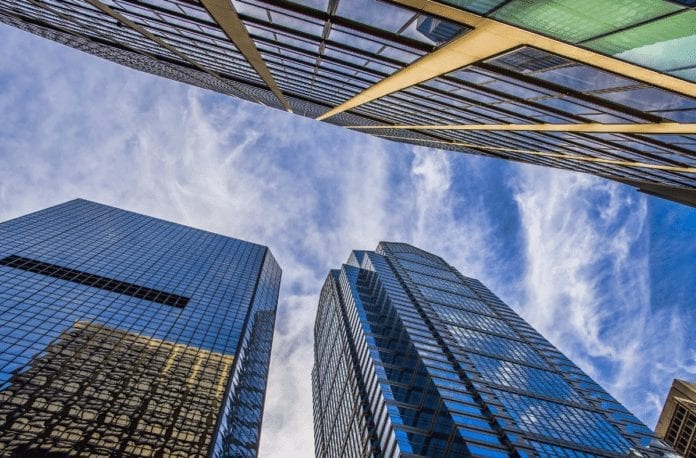 Although Bitcoin is what made blockchain a mainstream concept, the open source code has uses far beyond cryptocurrency. Blockchain is being described as revolutionary and disruptive. Here are a few of the industries, narrowed down with the greatest potential to be transformed by blockchain.
Finance and blockchain technology are coming together.
Regardless of what role cryptocurrency ends up playing in macroeconomics, blockchain can still have a variety of impacts on the financial industry.
Towards the end of 2017, futures markets had been created for Bitcoin which signals that traditional financial institutions like big banks see a long-term future for cryptocurrency. Corroborating this view, in 2017, Initial Coin Offerings (ICOs) raised more money than venture capital investments, according to CNBC.
As Bitcoin, Ethereum and Ripple continue to improve their ability to process transaction fees faster and faster, these cryptocurrencies will soon compete with the speed at which credit card companies can process transactions.
Cloud computing technology could be enhanced by blockchain platforms.
How far the world has come since the days of the floppy disk and bulky hard drive. Now people can store information in the cloud, but blockchain may be able to improve the technology even further.
Blockchain-based platform Akash wants to create an open marketplace for providers and users, taking advantage of the abundance large-scale data centers sitting on idle computing power.
Akash users can "rent" idle computing power allowing providers to turn their idle power into a viable revenue stream. The ultimate result is a marketplace where cloud computing costs are based solely on supply and demand instead of centralized, fixed prices.
Online gaming was among the pioneers of some of the earliest versions of cryptocurrency so it's no surprise that the gaming industry is adopting blockchain technology.
According to TechCrunch "the fantasy sports industry is worth more than $7 billion," with FanDuel and DraftKings owning 90 percent of this industry, creating the strong potential for disruption.
Companies like MyDFS are trying to do this with platforms which allow users to create virtual lineups of real players, place bets and receive winnings in the form of tokens, accordingly.
Because the most popular monetization model for smartphone app games is in-app purchases, it's highly likely many more developers in this space will use blockchain technology and cryptocurrency.
Decentralized governance could be possible with the employment of blockchain technology.
A key principle and philosophical value of blockchain is decentralization. Although the idea of building completely decentralized organizations is exciting, bringing it to fruition is very challenging.
Often, a natural hierarchy or power structure forms, with one person or group's voice dominating others. Thanks to blockchain, however, new frameworks are emerging that make it possible for decentralized applications to build and scale effectively.
DAOstack is one such example which is building a platform for collectives to self-organize around any shared goal, interest or values. It empowers organizations and emerging applications to determine and implement the right governance model using DAOstack's technological protocol.
DAOstack aims to bring collaboration to the forefront and create an environment in which the goals of individuals can actually work in tandem to benefit the goals of the greater collective.
Property rental industry could be shaken up by blockchain platform.
If one pays attention to domestic affairs, they know that the U.S. has a housing crisis. In addition to lack of affordable housing, renting in populated cities is a nightmare. The competition, high costs, and issues of trust that go both ways between landlord and tenants is part of why moving is one of life's most stressful events.
Thankfully, one blockchain platform is trying to disrupt this industry: Rentberry, is a San Francisco-based startup that's gaining media buzz. Rentberry aims to address the common issues and inconveniences of the traditional rental model. One function allows prospective tenants to bid on the landlord's price, bringing transparency to the rent auctioning process that is common in highly competitive areas like New York City or Los Angeles. Another feature is the security deposit crowdfunding capability which allows a user to take out microloans from the Rentberry community to be paid back with interest, effectively removing the financial obstacle presented by a security deposit.
Furthermore, the use of e-signatures and smart contracts to cover monetary transactions including rent and utility bills, allows payments to occur in a reliable, trustless system. A rating system for both landlords and tenants creates a reliable, network-approved way of assessing one another before they enter into a legally binding contract.
Digital advertising could actually pay viewers with one blockchain project.
Online ads are a necessary evil used to fund the free services everyone enjoys on the internet. So if people were given a choice as to whether and what type of ads show up on their devices, wouldn't they take it?
There are many startups taking a crack at solving the issues of wasted data and money prevalent in digital advertising. One with a lot of promise is blockchain project Basic Attention Token (BAT). BAT not only provides an internet browser that blocks ads and trackers, but its business model is revolutionary in that it directly pays consumers for viewing ads. This incentivizes users to actually engage with ads they'd normally block or tune out. Furthermore it achieves more precise targeting for advertisers with lower rates of fraud.
These are only a few of many industries likely to be impacted by blockchain over the next couple of decades. Just as the internet was at first a niche market, written off by some as a novelty, blockchain has the potential to change many facets of our daily lives.
For a refresher on how blockchain works and differs from cryptocurrency, check out What is Blockchain Technology?
For further reading about the concept of trust and blockchain, please read How Blockchain Works to Rebuild Trust Between Strangers.