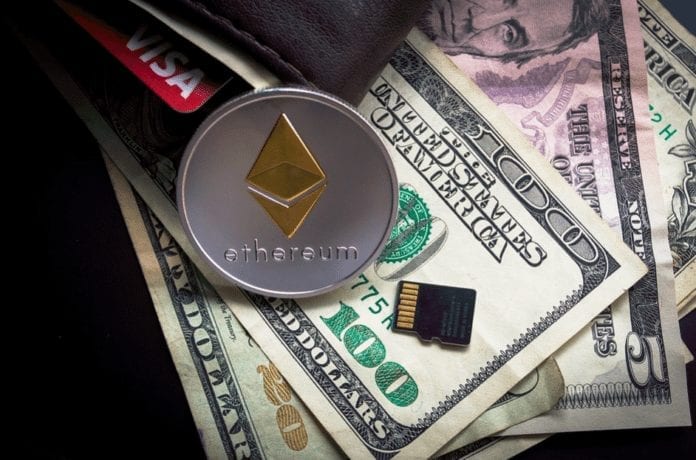 Although Bitcoin news seems to get the most attention, keep an eye on Ethereum stocks over the course of the coming year as this newer cryptocurrency offers its own benefits.
Unlike other new cryptocurrency like Litecoin, Ethereum is a new type of blockchain code whose tokens can be used for a variety of secure purposes, most notably as cryptocurrency, but, also the creation of virtual machines that can execute smart contracts.
Smart contracts are essentially simple programs that run based on the basic premise of computer command line logic: "if this, then execute that." Combining multiple smart contracts together creates full-fledged applications that can perform complex transactions.
Unlike Bitcoin, Ethereum turned itself into a blockchain technology rather than blockchain currency.
Its blockchain technology will change banking, coding, hosting, application development and security forever due to its use of decentralized applications (Dapps). Decentralized applications don't suffer if a server farm goes out as the result of a bad upgrade or an employee error. The application runs independently within every individual miner's machine.
The result is thousands upon thousands of mining machines that keep the network running smoothly. Dapps thereby offer lower costs, higher uptime and irrevocable data. No single person can ever tank or manipulate the system without other users verifying and agreeing to the decision.
Given how popular felines are online and that cryptocurrency is also based online, of course it follows that somehow cats and Ethereum are connected.
Allow me to explain.
Originally intended as an app in which users created and traded digital cats, CryptoKitties was released and ran on top of the Ethereum network. The hit app quickly went viral since its recent release and has collected about $7 million dollars in trades. The most expensive digital cat so far was just sold for $100,000!
Because each cat and feline transaction is hosted by Ethereum, CryptoKitties has clogged up the Ethereum network causing major slow-downs. Up to 30,000 transactions may still be waiting to be processed right now.
Like Bitcoin and other cryptocurrency, Ethereum's huge issue is scaling.
While Bitcoin can process five to seven transactions per second, Ethereum can only process 15 transactions per second. Vitalik Buterin, Ethereum's co-founder, and his team are working on improving Ethereum with upgrades and scaling.
Another Ethereum co-founder, Charles Hoskinson, started Cardano, a new type of blockchain which promises to fix scaling with its side-chain solution. EOS, another platform due in 2018, promises the same improvements.
There are currently more than 1,300 forms of cryptocurrency in existence with hundreds more coming out every month.
But despite the seeming market competition, a vast majority of these news tokens are  ERC-20 based and still rely on Ethereum's network. Caradno and EOS can make big promises, but, until these platforms actually deliver, their promises are only words. Until then, it seems Ethereum is still a rising star.
Ethereum has the advantage of being the first cryptocurrency on the market with smart contracts and has more than 1,000 decentralized apps riding on top of its network.
With ICOs (Initial Coin Offerings) facing more severe regulation and slow downs due to market saturation, Ethereum's value could grow by 1,000 percent to reach a potential value of $4,000 by the end of 2018, provided scaling issues are resolved. Although Bitcoin seems to be the golden child of the cryptocurrency market, Ethereum may surprise us all with its growth thanks to its position as the most dominant platform on which to run decentralized apps.
(To learn more about how Bitcoin may perform this year, read Why Bitcoin Could Hit $20,000 In 2018.)