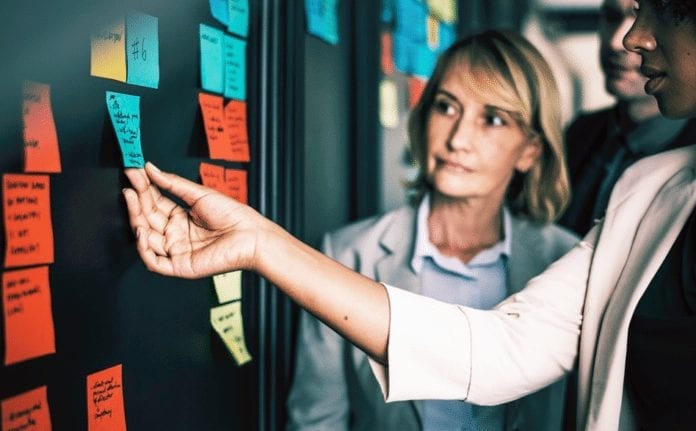 Believe it or not, a lot of attention in the current job market has turned to increased demand for developers with blockchain skills.
According to a new study by the freelance employment website Upwork, job postings for workers with blockchain skills have grown exponentially.
Blockchain is the second highest skill in demand behind those with robotics skills.
"Blockchain appears to be the next uncharted, highly talked about technology similar to what the 'cloud' was back in the mid-2000's," according to the Upwork report. "Its growth exceeded 2,000% for three quarters in a row on Upwork.com, and in Q1 it experienced more than 6,000% year-over-year growth, making it the fastest-growing skill out of more than 5,000 skills on the site."
According to a study by Burning Glass Technologies, there were 5,743 mostly full time job openings requiring blockchain skills in the last year, representing a growth of 320%.
"Major companies such as Samsung and IBM are already leveraging it in innovative ways, while Salesforce is planning on unveiling a blockchain offering for its customers during Dreamforce in September," the Upwork report claims.
Bitcoin cryptocurrency developers are less in demand this year than last, but, blockchain technologists still earn up to $250 per hour, according to Upwork's listing site.
"As skills become more specialized, companies either need to invest in re-skilling to prepare workers for the jobs of tomorrow or leverage freelance professionals who are nearly twice as likely as traditional employees to proactively take re-skilling upon themselves," Stephane Kasriel, CEO of Upwork, said in a statement. "Many of today's Fortune 500 companies are already doing this, and adoption of flexible workers will increase as hiring gets harder."
The median income for full time blockchain developers working in the U.S. is $140,000 annually, as compared with general software developers who, on average, earn $105,000 yearly, per Matt Sigelman, CEO of Burning Glass Technologies.
"Most of the demand for blockchain developers is still concentrated [in high-tech regions]," Sigelman said explaining why salaries in Silicon Valley and New York are higher on average (though it is worth noting the high cost of living there).
According to Burning Glass, blockchain technology and hiring patterns are still in their infancy.
Employers struggle not only to find blockchain talent, they're wondering how will technology change their business.
"Because of its connection with 'cryptocurrency,' blockchain is associated with finance, and major banks like Liberty Mutual, Capital One and Bank of America have posted openings," states Burning Glass Technologies blog. "There are also companies devoted to building blockchain applications, like Consensys Corporation. But, the demand for blockchain is much broader, including major consulting firms like Accenture and Deloitte and technology companies like IBM and SAP… [and] is additional evidence that the business world is starting to take blockchain seriously."
Industry experts forecast the business value-add of blockchain will exceed $3.1 trillion by 2030, predicting blockchain will succeed in terms of utility for business and is a technology that's here to stay, the Upwork report said.
A recent survey by SAP discovered 92% of business leaders view blockchain as an opportunity ranking its most promising use cases in the following order: Supply chain and IoT  (63%); Legal and regulatory  ( 19%); Cryptocurrency  ( 8%); and Sustainability (3%).
Furthermore, the World Economic Forum just released a toolkit to help executives better understand whether blockchain is right for their business needs. As more executives try to navigate this innovative, possibly revolutionary new technology, demand has surged for  blockchain experts who can help demystify it and explore potential uses, Upwork noted.
For example, many businesses are considering the ways blockchain can create workplace efficiency by eliminating the need for central administration as is currently the case with frequently used relational databases.
"It's a very hot topic right now," according to Zulfikar Ramzan, CTO of RSA Security in an  interview with Computerworld. "We are definitely getting a lot of inbound inquiries around blockchain and its implication within enterprise environments. I think it's driven largely by the fact that when there's a new technology out there, to some degree, people want to be buzzword compliant with the latest and greatest."
The 20 fastest-growing freelance skills, to include blockchain, reported in the 2018 first quarter demonstrated more than 130% year-over-year growth in demand.
Demand for the top 10 skills grew more than 400% compared to the same time period last year (Q1 2017). The top 20 fastest-growing skills according to Q1 2018 were:
Blockchain
Tensorflow
Amazon DynamoDB
Voice over
Subtitling
Art direction
Content strategy
Computer vision
Microsoft Power BI
Augmented reality
Chatbot development
React native
Media buying
Go development
Information security
Scala development
Instagram API
Adobe Premiere
Machine learning
AngularJS development
Banks are now exploring blockchain to take advantage of its ability to create an open, cross-border system for clearance and settlement of financial transactions. For example, IBM has built a new blockchain financial service for use as a cross-border currency exchange for several banks.
In 2017, IBM partnered with a Polynesian payments system provider and an open-source FinTech payment network to implement a new international exchange using blockchain.
This network will serve 12 different currencies across Pacific Islands as well as Australia, New Zealand, and the United Kingdom.
Mastercard is launching its own blockchain-based network to enable partner banks and merchants to make fast, secure cross-border payments. The Mastercard blockchain service can clear credit card transactions and eliminate administrative tasks using smart contract rules, thereby reducing the transaction settlement time.
In October 2017, JP Morgan Chase rolled out a blockchain pilot program for global payments. The financial services giant said the blockchain-based Interbank Information Network "will enhance the client experience, decreasing the amount of time – from weeks to hours – and costs associated with resolving payment delays."
With huge institutional investment and adoption of blockchain technologies, it's no surprise to see an increased demand for blockchain skills within the modern job market.
(Reported previously regarding the interest in blockchain related careers, please, read Interest in careers geared towards cryptocurrency spiked in 2017.)
Related