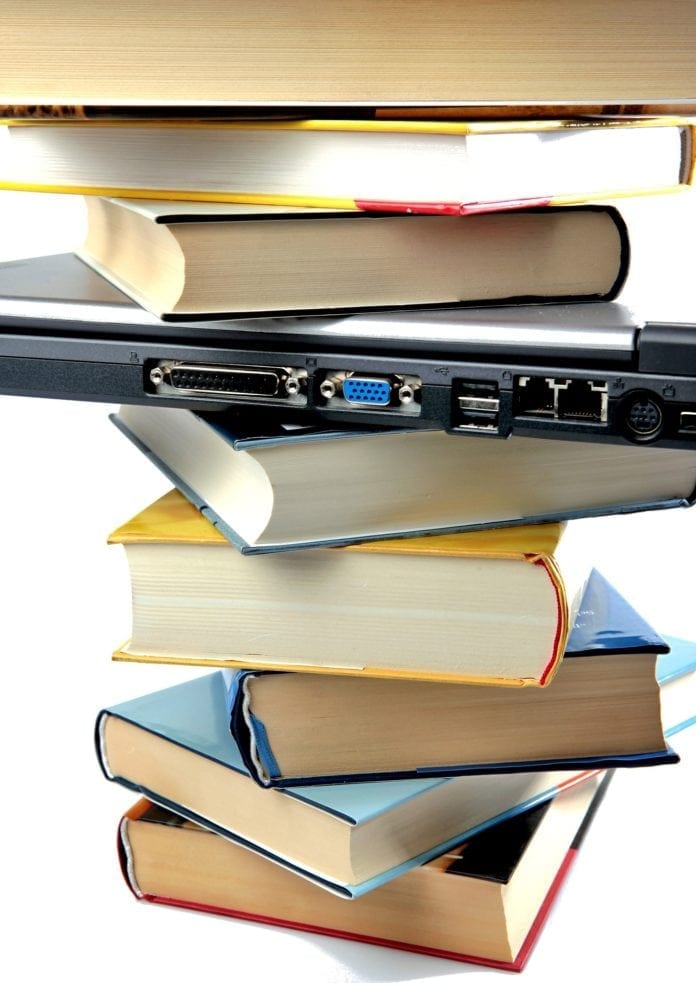 A person has been keeping up with blockchain news pretty steadily and they've already read previous articles like What is Blockchain Technology? and now they are eager to learn more. What is their next step?
Although this website and the internet, in general, can teach people a lot about blockchain technology and cryptocurrency, books remain a top resource for truly in-depth, nuanced information. Here are the 8 best books to research more about blockchain. By combing the scholarly conclusions of blockchain experts with current blockchain news like one finds below, people will have an invaluable foundation with which to understand this technology.
Blockchain Revolution: How the Technology Behind Bitcoin is Changing Money, Business, and the World
Don Tapscott is the author of bestselling book "Wikinomics" while his son and co-author  Alex Tapscott is a blockchain expert. Together, they present a well-researched yet accessible book regarded as the business leader's playbook for the next decade and beyond.
Blockchain Revolution explains how blockchain works and how it will evolve, and revolutionize the world. This book details the different ways in which blockchain technology is changing transactions, money, and business.
According to the Tapscotts, this technology is going to enhance delivery of expanding financial services, protecting personal identity information, personal contracts and business.
Down the Rabbit Hole: Discover the Power of the Blockchain
Written by Tim Lea, this book is written from the ground up as an easy-to-read, deep primer on the blockchain.
A perfect choice for business professionals, Down the Rabbit Hole will help people not only understand the power of blockchain but also how to capitalize on it. Offering a practical hands-on guide to blockchain and its potential, this book also helps people make their business more competitive.
Blockchain: Blueprint for a New Economy
By Melanie Swan, this book primarily focuses on recognizing and examining the practical implications of decentralized ledger technology.
Blockchain: Blueprint for a New Economy explains how blockchain technology works and its potential applications. Swan writes that the inspiration for this book was the realization that the potential case uses of blockchain technology extend well beyond cryptocurrency into many industries with tremendous impact on the economy.
The Science of the Blockchain
As its title indicates, The Science of the Blockchain explores the basic concepts and techniques for building fault-tolerant distributed systems and is highly technical in nature.
Written by Roger Wattenhofer, the book presents different protocols and algorithms that enable fault-tolerant operations as well as practical systems which implement them.
The author's research areas of focus include fault-tolerant distributed systems, network algorithms and cryptocurrency like Bitcoin. As a published author of over 250 scientific articles, Wattenhofer is a reliable and well-rounded source.
The Complete Guide to Understanding Blockchain
Written by Miles Price, The Complete Guide to Understanding Blockchain explores the different ways in which blockchain technology will ultimately change the way information is shared around the world.
Furthermore, this book details how blockchain technology is going to revolutionize financial services as well as how world governments will adopt blockchain to issue cryptocurrency versions of their national fiat.
In essence, this book explains how blockchain has revealed itself as more than just a fad but as a practical and necessary tool to facilitate information sharing.
The Business Blockchain: Promise, Practice, and Application of the Next Internet Technology 
Author William Mougayar discusses how blockchain technology will give rise to potential new business models and ideas that remain unknown to us now. As a result, the book is rather speculative in nature as it looks to the future of blockchain.
The Business Blockchain is ideal for technologists who seek to better understand the business potential of blockchain.
The Book of Satoshi offers the writings of the mysterious and anonymous creator of Bitcoin who goes by Satoshi Nakamoto.
By now people realize that blockchain technology and Bitcoin are closely associated with one another because the latter pioneered the former thereby making cryptocurrency possible.
The mystery is strong because while it's widely believed that Satoshi Nakamoto is a pseudonym no one knows if it belongs to an individual or a corporation or where that entity is based geographically. The Nakamoto persona exists virtually mirroring the digital existence of its cryptocurrency creation; Nakamoto has only ever spoken through online publications.
The Book of Satoshi is a definitive collection of Nakamoto's essential writings, including the original white paper detailing the formation of Bitcoin.
The Internet of Money explains what makes Bitcoin and blockchain technology tick and how the latter may revolutionize the world.
Written by Andreas M. Antonopoulos, one of the most beloved figures in the cryptocurrency space. He has advocated for Bitcoin for many years with The Internet of Money being an edited compilation of several of his global speeches given between 2013-2016.
The depth of his knowledge shines through in an accessible manner, making this book a perfect read for anyone who may have struggled to understand such complex subject matter.