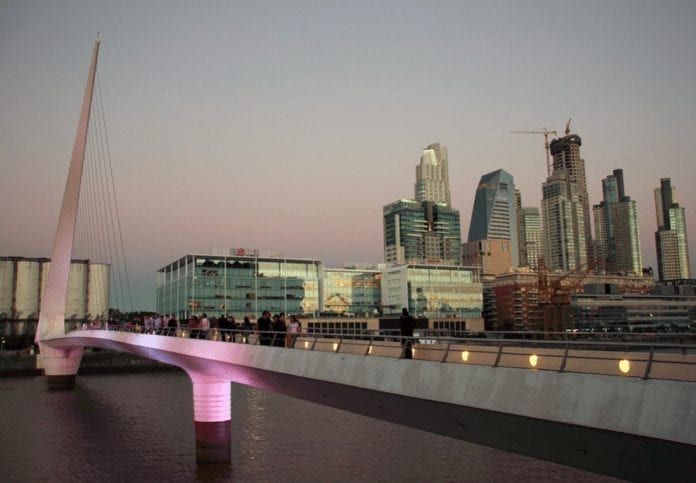 One of the most exciting aspects of Bitcoin and other types of cryptocurrency is that unlike fiat currency, it is truly a global financial phenomena connecting people all around the world through transactions on the digital ledger. While some countries seek to understand cryptocurrency regulation, as discussed in a previous article titled "Germany and France open discussions regarding cryptocurrency regulations," other countries have embraced cryptocurrency as seen in Venezuela, which has its own national digital token.  
More recently, Bitcoin is gaining serious traction in Argentina, although, it may not yet have "conquered" the country as it has in Venezuela.
This rising popularity couldn't have been clearer at the official "Bitcoin Day" Conference in Buenos Aires in early April. The event hosted over 500 attendees in an attempt to serve the growing demand for information regarding blockchain technology.
Held in the center of the capital city's Almagro neighborhood, the conference illustrated how the country is still the leader in regional adoption even if other developments in Latin America (like Venezuela's aforementioned petro cryptocurrency) may have received bigger headlines in bitcoin news as of late.
Chile's Guillermo Torrealba, CEO of the cryptocurrency services firm Buda, contrasted his efforts to achieve banking support in Argentina with his experiences trying to work with cryptocurrency in other countries.
"There are even banks here that have executives that are exclusively dedicated to cryptocurrency companies," Torrealba explained. Compared with his home country of Chile, the situation, he said, is in stark contrast.
"In Chile last week, all commercial banks have decided to close the accounts to all the cryptocurrency companies at the same time. They killed the industry," he elaborated to CoinDesk.
Despite the negative experiences he's had in various other countries, Torrealba maintains optimism for other countries to soon follow in Argentina's progressive footsteps when it comes to cryptocurrency regulation.
Torrealba expects government or judicial regulation to ultimately end the blockade. He cites countries like Peru, which is already pursuing a different strategy, as illustrative examples from which other policy makers should observe and learn.
"We believe that it is not long before the traditional financial industry will come looking for us in order to begin to use our infrastructure," he concluded.
However, in Argentina that might already be well underway.
Gonzalo Blousson, CEO of digital notary startup Signatura, credits this development to a vibrant local community that has been evangelizing on behalf of blockchain for years. He explained to CoinDesk: "We used to call the companies to tell them what blockchain is about. Today, they call us to improve their processes."
Despite the discussions of regulation, the most pressing concern most attendees had was: if and when the Bitcoin price, which has been down more than 60 percent on the year, would begin to rise again.
Carlos Maslaton, head of treasury at Xapo, sought to answer this question by starting a dialogue on how financial entities are wary of bitcoin because it "generates competition" in the financial markets.
In a noble effort, he strongly urged banks to "open their minds a little," with regards to cryptocurrency. He also suggested the crowd in attendance was reason enough; Bitcoin and cryptocurrency clearly have an eager, new market for their services, in his view. Maslaton explained how he did not expect such a strong turnout after the decrease of Bitcoin price, but, the conference demonstrated without a doubt the demand is still there.
Adriel Araujo, one of the event organizers, reflected the clear evidence of Bitcoin demand noting how Argentina is one of the most innovative markets in the cryptocurrency sector. 
"Buenos Aires is one of the top capital cities where most blockchain-based projects are developed." He further added that Banco Central de la República Argentina (BCRA), the country's central bank, is very much open to using blockchain technology and is working with cryptocurrency experts to implement clear regulation. The BCRA is currently adopting a non-intervention policy in order to enable the development of blockchain.
Araujo is not worried about the recent volatility in Bitcoin stocks; the asset class is still in a bullish trend and is actually about to surpass the recent all-time highs despite such negative media coverage. He believes cryptocurrency has the potential to "eliminate the monetary borders globally."
Meanwhile, Maslaton doesn't see banks as the enemy of cryptocurrency at all; rather, he believes Bitcoin still has regional threats in the form of government baked digital tokens.
Asked by a Venezuelan citizen about his opinion on the petro cryptocurrency, Maslaton went so far as to call the national token a "fraud."
"No currency of these characteristics can be issued by a government. Precisely the idea of cryptocurrencies is that they are not to be issued by a government," he said, invoking one of the core principles of cryptocurrency: decentralization.