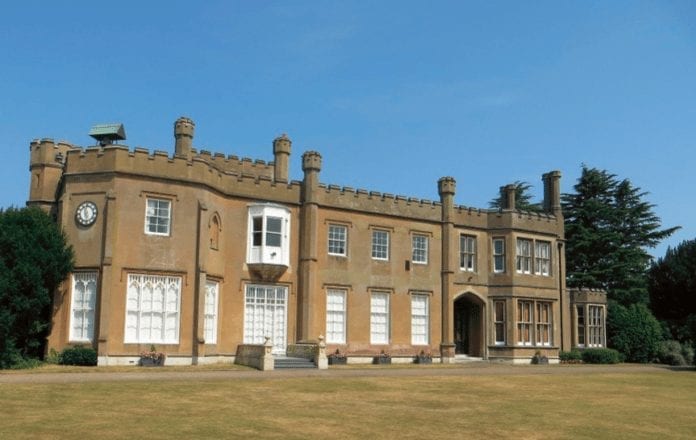 Although cryptocurrency has been linked to a variety of crimes the same way traditional currency always has, one would not expect blockchain news to involve an armed home invasion. Usually theft and fraud of cryptocurrency takes place virtually by hacking mainframes to mine Bitcoin at another's power bill expense.
The world has now seen its first armed robbery of Bitcoin.
The already twisted story has yet another twist or two to it, though.
30 year old Englishman Danny Aston has done very well for himself already. Just out of his twenties, the high profile investor raked in big bucks in part thanks to his savvy choice to buy blockchain stocks and invest heavily in cryptocurrency like Bitcoin. He lives in a million dollar home in the exclusive English countryside of Oxon with his wife and young child. The gorgeous, Tudor-revival style estate includes a sprawling mansion and multiple outbuildings such as a five car garage.
Armed robbers threatened the family and demanded Danny Aston transfer his Bitcoin cryptocurrency to various anonymous accounts.
The rustic property in its bucolic setting may resemble a modern day fairy tale, but, that quickly turned into a old school Brothers Grimm story recently when Aston's peaceful home was invaded by four armed robbers set on getting his Bitcoin by any means. They even went as far as to tie up his wife and kept their young child outside in her stroller menacingly in order to frighten Aston into transferring his Bitcoin to their anonymous cryptocurrency accounts.
The Bitcoin thieves left the estate believing they had acquired Aston's cryptocurrency; however, they were mistaken.
By the time the gunmen had left, it appeared as though Aston relented under pressure and transferred the Bitcoin per the robbers' commands. After all, what kind of man would be cavalier about a violent threat to his own family?! But Aston isn't your typical multimillionaire under duress. He had only tricked the assailants into believing they had his cryptocurrency when in reality he sabotaged the transaction somehow.
It's not yet been revealed how Mr. Aston got away with duping the criminals. One possibility is he set the transaction fee so low the Bitcoin could not actually be mined. It's also possible he took advantage of replace-by-fee option offered by some blockchain wallets which allows for the destination address to be changed retroactively. Whatever Aston did, it worked because the robbers left and he still has all his cryptocurrency. A local police official confirmed that "the attempted transaction of bitcoins failed."
While Aston managed to keep all of his Bitcoin cryptocurrency, his status leaves him at risk for future attempts at stealing his fortune.
All that said, Mr. Aston may not be entirely out of trouble right now. Being conspicuously wealthy presents inherent dangers which are compounded if one is a public figure with a known residence.
Since the story broke, Mr. Aston became a bit of an overnight celebrity across the pond and a quick Google search of his name will now pull up maps of where he lives. He will need to beef up security measures to protect all his assets, cryptocurrency or otherwise.
Aston cannot limit his security measures to simply fortifying his home since theft of cryptocurrency can, and does, occur virtually.
Just last week Coincheck, a Japanese cryptocurrency exchange, failed to implement a multi-sig security measure and, as a result, $400 million of cryptocurrency was stolen from its NEM wallet.
While we may not all be able to learn from Aston's Bitcoin success, we can learn from this harrowing experience just how important discretion and security are when it comes to cryptocurrency. Keep cryptocurrency in cold storage such as on a hardware wallet, in a bank account, or under the control of multi-sig so that it is immune from violent home invasions. For added safety, try a program like Ledger or Trezor, both of which offer advanced passphrase options that will unlock a false address. While cryptocurrency may be the way of the future, some things like personal security never change.
(To learn more about cold storage of cryptocurrency, read How to Make a "Cold Storage" Bitcoin Wallet.)