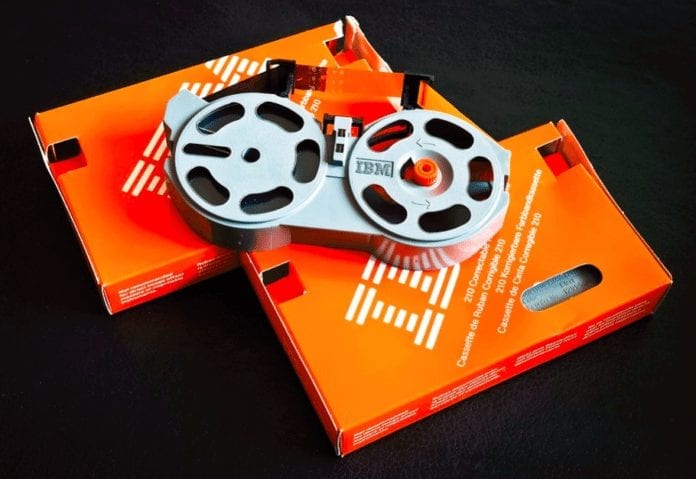 International Business Machines, more commonly known as IBM,  is considered by many investors to be "old tech" due to how long it has been on the markets. This reputation is further reinforced by the fact that IBM has posted only one quarter of revenue growth in the past five years. Known as "Big Blue" IBM's stock has also been lagging behind in the markets lately, losing about one-fifth of its value at the same time tech shares in general have more than doubled in price.
But don't discount IBM entirely just yet.
Blockchain technology just might turn things around for IBM. 
The seemingly old school tech giant promises to post exceptional returns in the coming years by embracing and adopting two of the hottest trends of the "new tech economy" — blockchain  and the cloud.
Wall Street has largely ignored IBM's domination of blockchain technology which is the digitized public ledger that records transactions thereby serving as the backbone of cryptocurrency like Bitcoin. This refusal to take notice of IBM is truly odd because armchair speculators and cryptocurrency bulls have been willing to drive up the share prices of obscure companies that have morphed their business models from things like iced tea and biotechnology to include blockchain.
Once the Bitcoin bubble bursts as Warren Buffet and many others have predicted, though, investors will likely come to their senses and focus on more potent, long-term opportunities like those offered by IBM.
IBM ranked No. 1 in blockchain technology in a survey of 400 executives, managers, and IT leaders conducted by the esteemed Juniper Research Group, a digital commerce and financial technology research firm.
IBM was ranked first by 43% of those businesses "actively considering" or "in the process of deploying" blockchain technology.
Microsoft came in a distant second at 20%. IBM is currently engaged in major blockchain innovation and development initiatives that includes participation in the open source, Hyperledger. On top of that, IBM has already built an impressive portfolio including Fortune-500 clients across diverse industries.
This blockchain technology IBM has developed will provide the core for hundreds of new business applications in coming years, although developers have announced there are no plans to enter the promising, but, volatile field of cryptocurrency. IBM already beat Wall Street analysts' earnings and revenue estimates in the fourth quarter of 2017 and now expects 2018 operating earnings of at least $13.80 per share. The company even reported year-over-year revenue growth for the first time in 23 quarters.
Revenues from new technologies rose 11% year over year and 17% for the quarter and now contributes to 46% of IBM's total sales. Cloud revenues also continued their impressive growth, contributing $17-billion in the last 12 months, up 24% on a year-over-year basis.
James Kavanaugh, IBM senior vice-president and CFO, confirmed his company's long-term commitment to cloud and blockchain technologies.
In the company's quarterly release, Mr. Karvanaugh stated that  "2018 will be all about reinforcing IBM's leadership position in key high-value segments of the IT industry, including cloud, AI, security and blockchain."
All these factors combined, the company may have finally shaken off its old, slow reputation and is now gearing up for a positive growth trajectory. However, the stock dropped after IBM released quarterly earnings because 2018 market players are too narrowly focused on long-term lead. The reversal highlights the need for patient discipline and a multiyear investment in order to benefit from the company's slow but steady domination of blockchain and cloud markets.
Should one buy blockchain stock from IBM while the company is still struggling to recover?
The emerging growth trends will continue while IBM leverages blockchain and cloud technology into profits for its patient, long term investors. Buy low, sell high, right? IBM  stock is cheap relative to its peers while offering greater long-term potential. In early February, the stock was trading at a price/earnings ratio of 11.7, based on projected earnings over the next 12 months, making it 40% cheaper than the broad market.
Adding to optimistic predictions, IBM stock is also trading well off the deep lows it posted in 2016 and 2017, making it very attractive to value-oriented investors. IBM is also less vulnerable to a downturn since its stock hasn't posted a new high in the last five years, remaining stuck within a long-term trading range. Seems like "Big Blue" is poised for a comeback.
(To learn more about blockchain potential, read How Blockchain Could Reach Beyond Cryptocurrency Into Everyday Life.)