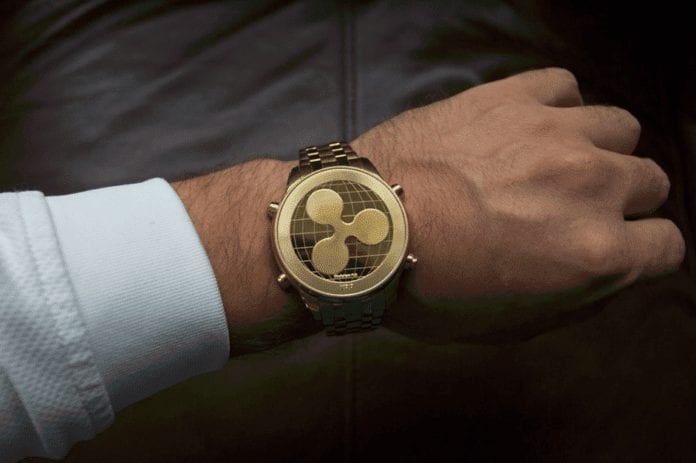 The fairly new cryptocurrency 
Ripple
 has blown past its rivals largely because of its association with established financial institutions which impart a sense of legitimacy and viability to any financial instrument. However, cryptocurrency enthusiasts feel Ripple is moving towards centralization which is antithetical to the purpose of digital coins in the first place.
This past Wednesday, Ripple gained 29 percent to reach an all-time high of $3.20, according to CoinMarketCap. Ripple, or XRP, now has a market capitalization of $122.7 billion and remains solidly in second place to Bitcoin, which has a market value of about $251 billion, the website showed.
Ripple is a five year old start-up based out of San Francisco specializing in developing a payments network for financial institutions. XRP is the name of the coin or token participants can use for transactions. It was revealed in October that more than 100 financial institutions are using the Ripple network in some way, including the Bank of Tokyo-Mitsubishi UFJ, Mizhuho, Credit Agricole and Nordic bank SEB.
Since Bitcoin, the cryptocurrency with the largest market cap, had a rough start to 2018, many investors are looking at other types of cryptocurrency. 
Ethereum and Ripple, have both experienced fairly strong starts to the year causing many analysts to wonder which new younger digital could usurp Bitcoin's dominance.
Market values for all three types of cryptocurrency have been extremely volatile the past few weeks. On Monday, the price of Ripple tumbled as did that of Bitcoin. Meanwhile, Ethereum gained value.
Ripple currently has 38,739,144,847 digital coins in circulation. At Monday's price of $2.49, its market cap was $96.46 billion according to CoinMarketCap.com while Bitcoin's market cap was $254.2 billion.
For Ripple to surpass Bitcoin right now, the cryptocurrency would only need to get to $6.57, requiring a rise of 164 percent.
To put that number in perspective, Ripple rose by nearly 36,000 percent last year.
Ethereum has a circulating supply of 96,846,982 digital coins with a current price of $1,119, according to CoinMarketCap. Its market cap is $108.3 billion meaning Ethereum would need to rise to around $2,700 to surpass Bitcoin. This rise would require a 134 percent increase from Monday morning's price, smaller than the 164 percent required of Ripple to do the same.
Both Ethereum and Ripple benefit from having larger circulating supplies than Bitcoin which means the price of each digital coin can be lower to achieve a higher market cap. Bitcoin's supply is capped at 21 million with the current supply standing at 16,789,425.
With Bitcoin's dominance standing at record lows while other types of cryptocurrency see big price increases, it's possible Ethereum or Ripple could claim the higher market cap soon.
All that said, if Bitcoin sees a price surge this year as has been predicted, neither Ethereum nor Ripple is likely to surpass it. Adding to that skepticism, some experts have suggested that Ripple has run ahead of itself. Ripple works with large institutions and, unlike Bitcoin, many of those coins are actually owned by the company.
Ripple cryptocurrency is not as decentralized as Bitcoin.
"The reason Ripple is surging so much is it's a bubble," warned Erik Voorhees, CEO of digital asset exchange ShapeShift. Voorhees is also a well known vocal advocate for Bitcoin as a way to separate money and the state. "Testing cryptocurrency with banks doesn't make sense. The whole idea of cryptocurrency is you don't need banks." Ripple is "not interesting from a financial innovation perspective," Voorhees said so perhaps it won't be able to capture investors' attention the way Bitcoin has.
(For more information on how other cryptocurrency may perform in 2018, read Why Cardano Could Hit $2.00 In 2018.)