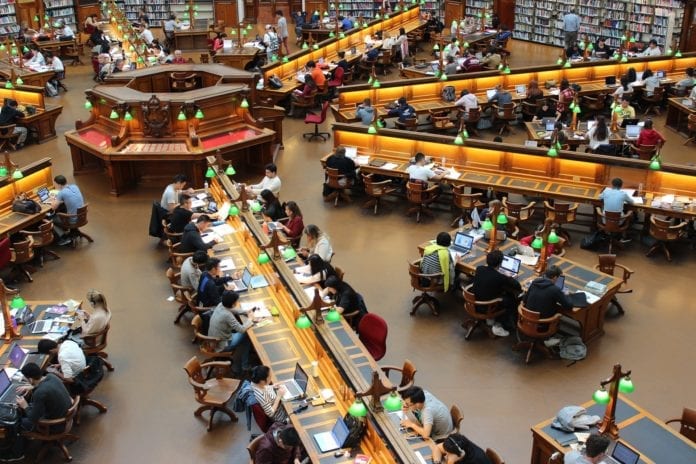 Top-ranked business schools have hopped on the bitcoin bandwagon by expanding their course offerings on cryptocurrencies and blockchain. We first discussed this topic a couple months ago in our article Cryptocurrency courses coming to college campuses worldwide. The demand for cryptocurrency related MBA classes has only been growing since.
Kevin Werbach, professor at the Wharton School of the University of Pennsylvania, has scheduled a class in the fall of 2018 called "Blockchain, Cryptocurrency, and Distributed Ledger Technology."
"We're at the point where there's a critical mass to teach this domain," Werbach explained to CNBC. "There will be a real phenomenon in business for the foreseeable future. And five years down the road, there won't be too many major business schools that don't offer similar classes."
Stanford Business School is offering a class called "Cryptocurrency" in May 2018. Itamar Orr, a second-year MBA student at Stanford, explained that "many of us will have to discuss blockchain at our jobs. It makes sense to teach it. It gets you a competitive advantage; it's an extra hammer in your toolbox."
Susan Athey, a professor at Stanford Business School who's on the board of Ripple, explains how the increased interest in cryptocurrency course offerings was largely due to bitcoin's soaring prices in 2017.
"The fluctuations in the prices have everyone mesmerized: Just how did this happen? Many people have gone boom or bust. And that's, of course, exciting, attracts a lot of interest, and motivates people to understand what's going on," she said.
John Jacobs, a former Nasdaq executive who's now the executive director of Georgetown Business School, confirmed that recruiters from Wall Street seek applicants who are well-versed in cryptocurrency. "Any world-class program is going to have to equip students in this field to compete," he told CNBC. "It's everywhere we turn around."
BlockTower Capital's Ari Paul described bitcoin and cryptocurrency in general repeatedly during his keynote at PennBlockchain on Friday, the inaugural cryptocurrency conference  at the University of Pennsylvania's Wharton Business School.
The emphasis was on bitcoin's low adoption as a rallying cry because in the grand scheme of things, the cryptocurrency ecosystem is still very small.
He compared it to the internet in 1995 when the technology wasn't yet widely adopted, but was prepped for an explosion in popularity.
Grayscale's Michael Sonnenshein struck much the same chord during a panel, bemoaning the level of media attention in late 2017, contending that "the unfortunate result of all those touchpoints is that everybody thinks everybody who wants to be is already involved. [However,] it's new, it's nascent, there's bugs but it's very exciting and also very risky."
The biggest threats according to the day's talks, is the pending regulation, sometimes aggressive, in the United States.
For example, Joe Guagliardo, a tech-focused partner at Pepper Hamilton, addressed how current regulation doesn't provide clear guidance on whether all cryptocurrency tokens will be categorized as securities. "It's stifling – not so much to innovation – but to companies trying to do the right thing," he explained.
Caitlin Long of the Wyoming Blockchain Coalition echoed that sentiment, telling CoinDesk  that selling cryptocurrency tokens is the best way for new projects to kickstart their business. "Federal security law fundamentally conflicts with building an organic community," she explained.
Chamber of Digital Commerce's Amy Davine Kim supported the view that the U.S. needs forward-thinking leadership from the top echelons of government: "We need a clear statement like we had in 1999 for the internet, saying this is important technology."
Cornell professor Emin Gun Sirer assured the student audience that based on layer-one demands, cryptocurrency is doing fine despite regulation, but also pointed out that if Venezuela shifted entirely over to bitcoin (from the new "petro" cryptocurrency token), "every adult in the country could only make one transaction every 36 days."
He further elaborated how "It's possible for new protocols to emerge that are strictly better than anything that came before them. We are far from having established the stack."
For his part, Paul further assured the students that while some dismiss cryptocurrency as merely a fad, there are billion-dollar businesses based on or related to blockchain technology.
However, he did conclude by warning that "many of these projects are on the wrong side of the Gartner Hype Cycle."
Speaking with a similar attitude regarding the potential blockchain has in general but specifically its potential to surprise, Amber Baldet (by the way on her last day as the blockchain lead at JPMorgan Chase), revealed to the audience that sometimes the most lasting and popular ideas are simply discovered by someone playfully experimenting with a technology they find interesting.
The most important or profitable ventures don't always originate with serious people building serious companies or savvy individuals with a longterm strategy which Baldet succinctly illustrated with a quick example: "You can't underestimate things like CryptoKitties."