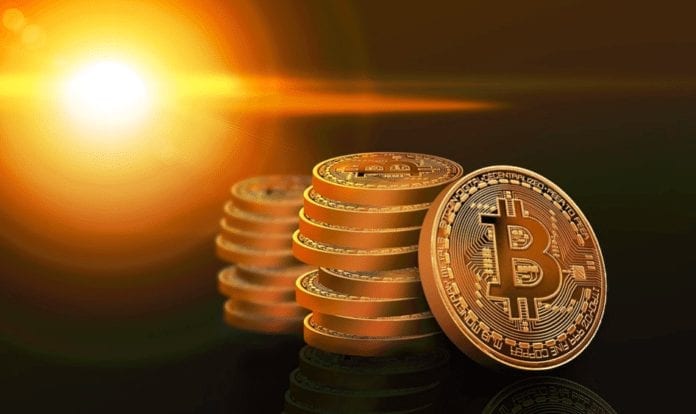 Bitcoin (BTC) reported losses yesterday, continuing a trend of volatile drops and gains since late November which was described previously in the article "The Slow and Steady Predictions for the Future of Bitcoin." Bitcoin failed to beat the key moving average resistance on Monday, although, the technical charts continue to favor a rally to $10,000.
Bitcoin ran into bids early on Monday to rise to a four-day high of $9,885.
Further, BTC also witnessed a bullish continuation pattern known in the industry as a bull flag breakout on the hourly chart. Despite the gains, the bullish trend ended near the 50-day moving average (MA) resistance of $9,920 in the early U.S. hours.
Earlier this week, bitcoin was trading at $9,297, according to CoinDesk's Bitcoin Price Index (BPI) representing a depreciation of 4.59 percent in 24 hours, as per data source CoinMarketCap. By Wednesday, Bitcoin was trading at $8,718.09, representing a further loss.
BTC's retreat from the high of $9,900 to $8,770 (prices as per Bitfinex) was a slap in the face to the optimism generated by last Sunday's bullish outside day candle and the bullish triangle breakout. Furthermore, these drops have established the 50-day MA as a strong resistance and mark Bitcoin's failure to hold above the double top neckline.
The momentum studies indicate a bearish future for Bitcoin; however, Coindesk still predicts corrective rally.
The 10-day moving average is sloping downwards with a bearish crossover between the 10-day MA and the 50-day MA. A move above $10,000 seems highly unlikely at this point.
That said, Coindesk reports that "BTC is still trading well above the long-legged doji candle low of $8,342 set on March 9. The candlestick pattern represents bearish exhaustion. Given these factors, the chances of a corrective rally are above 50 percent as long as BTC stays above $8,342."
Based on Coindesk's analysis, this hourly chart indicates a bullish 50-MA and 100-MA crossover. "The 4-hour chart favors a rally to $9,850 (inverse head-and-shoulders neckline). An upside break would allow a rally to $10,417 (61.8 percent Fibonacci retracement of the sell-off from the March 5 high of $11,700). A violation there would expose resistance at $11,000 (inverse head-and-shoulders breakout target)," explained Coindesk.
The sustainability of Bitcoin gains is uncertain as the weekly chart indicates the relative strength index (RSI) has headed in a bearish direction.
As a result, only a weekly close above $11,700 can confirm a long-term trend change away from bearish towards bullish.
On the other hand, dipping below $8,770 (Saturday's low) could yield a re-test of $8,428 (Sunday's low). A daily close (as per UTC) below $8,342 (long-legged doji candle low of March 3) would confirm the bearish weekly RSI, allowing for a sustained drop to $6,000 (February low) and $5,400 (Nov. 12 low).
Adding more uncertainty to the predictions, however, is an influential bitcoin holder who has added to a bullish case for the digital currency.
A trustee of now defunct Tokyo bitcoin exchange, Mt. Gox, sold over 35,000 bitcoin, then equivalent to $400 million, to pay off creditors and detailed in a sales report published last week.
Mt. Gox shut down in 2014 amid a bankruptcy filing following the theft of 850,000 bitcoin. In order to liquidate Mt. Gox's remaining 166,000 bitcoin, worth about $1.6 billion on Monday's, lawyer and trustee, Nobuaki Kobayashi, said cryptocurrency regulation in Japan requires him to first seek approval. Some reports indicate the necessary court hearing is not until September 2018.
"It's still hanging over but now we've got six months or so before that's an issue," Brian Kelly, CEO of BKCM, explained. "In terms of the Tokyo Whale it's a supply issue, but, it's also a sentiment issue."
In order to pay back creditors, Kobayashi had to sell 35,841 Bitcoin and 34,008 Bitcoin cash on behalf of the company since September 2017.
According to Brian Kelly, this flood of bitcoin could have contributed to recent bearish trends. 
"It's down 70 percent from top but at some point you run out of sellers," Kelly elaborated. "It looks as though the market's trying to bottom out."
While the Mt. Gox selling appears to be on hold, bitcoin still faces even more challenges to confirm it's back on a bullish run. "This is just one factor that's impacting bitcoin at this point," said Jack Tatar, managing partner at Doyle Capital Management. While Mt. Gox has "impacted the entire market," according to Tatar, it's too soon to say "with this off the table if bitcoin will rise in price."
Issues concerning cyrptocurrency investors include: news of compromised accounts on a major Hong Kong-based exchange; a statement from the U.S. Securities and Exchange Commission indicating more scrutinizing regulation of cryptocurrency exchanges; and increased regulation by the Japanese government as well. Furthermore, some Chicago Board of Exchange, or Cboe, bitcoin futures contracts expire Wednesday, which Tatar said could be further contributing to bitcoin's recent drop in value.
To see how this all plays out, keep up with Bitcoin news regularly, but, note how these smaller drops and increases work in relation to the long term pattern of valuation.