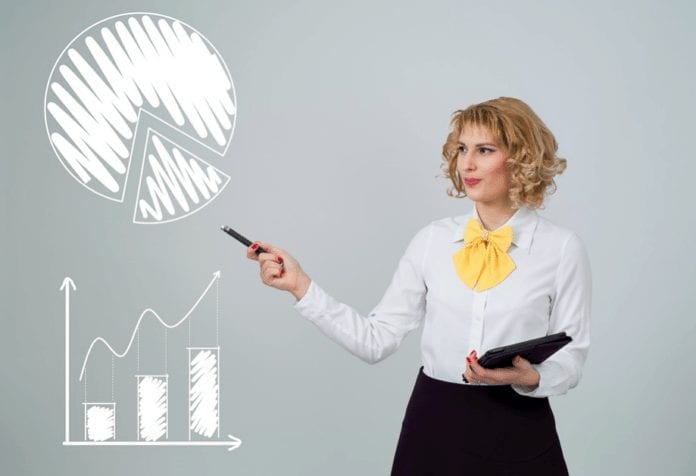 Over the past few months, cryptocurrency and bitcoin news have been dominated by its volatile behavior. While volatility is generally thought of as less desirable than stability, blockchain stocks (or any stocks, for that matter) are, by nature, not only somewhat volatile, but, this very volatility can lead the savviest of investors to net a profit. The greater the risk, the greater the reward, right?
When considering the price swings of cryptocurrency stocks lately, also consider how there is a fine balance between this volatility and the ambition of traders.
For a more in depth discussion of what has led up to this point, check out a previous article, After the latest drop in cryptocurrency, experts predict what's coming next.
It seems, despite all the drops in value, cryptocurrency still has a lot of sway on an ambitious investor. Why?
Hundreds of millions of dollars in tokens continue to be traded on exchanges with ICOs still continuing to pop up and make a profit. In 2018 alone, $4.8 billion in funding has already been raised through various token sales so far.
Even well-established companies are trying to jump aboard the blockchain bandwagon.
Trading platform eToro recently secured $100 million in a Series E funding round in support of its global expansion and further support of cryptocurrency and blockchain.
The platform already supports well-known tokens like Bitcoin, Ether, Litecoin, and Ripple, but, the funding round hints at the adoption of blockchain technology for its own use. Cryptocurrency exchange Poloniex was also recently bought by Circle, a fintech firm backed by Goldman Sachs, illustrating how traditional institutions are getting heavily involved with cryptocurrency.
Such developments only help inspire investor confidence and, so, backers continue to invest in blockchain initiatives and cryptocurrency. In the same vein, here are a few more reasons why the cryptocurrency market continues to encourage more investors:
Several blockchain projects have already gained traction in the areas of finance, healthcare and security.
The distributed nature of blockchain helps mitigate security and reliability issues plaguing other types of technology, further increasing its utility.
Blockchain appeal is further bolstered by the development of smart contracts and cross-chain interoperability. The possibilities for developing new applications based on blockchain seem limitless since distributed ledger technology is so innovative and versatile. As a result, there is an abundance of new and promising blockchain ventures regularly emerging.
Furthermore, traditional institutions and large enterprises are committed to adopting the technology as previously mentioned. Major world banks are forming consortia allowing them to utilize blockchain for their various services. The demand is so strong, it inspired tech sector giants, like IBM and Microsoft, to offer blockchain products and services.
New projects demonstrate the unicorn potential of blockchain as it is not limited to its typical use cases and applies to billion dollar industries like social networks, media, and gaming.
Casting a wider net could help these ventures catch bigger fish while early investors in such companies could see a significant ROI later down the road.
Some consider this boom of blockchain projects a bubble similar to the dotcom burst back in the first decade of this century. However, even if this were true, one should not dismiss the chance of winners emerging even if (or when) the bubble bursts.
For example, who wouldn't love to go back in time and buy massive shares of Google or Amazon at pre-IPO or at IPO prices? These two dotcom ventures survived the bubble bursting to yield tremendous ROI for early backers. There is always the possibility of one of these cryptocurrency based projects including future unicorns or start-ups valued at over $1 billion.
Not everyone is a venture capitalist (VC) with an early "in" to start-ups which typically requires a certain amount of wealth and reputation in the business community; cryptocurrency changes the game for the rest of us.
The only way ordinary people can really invest in new companies is to wait for a public offering.
Initial Coin Offerings (ICOs) are the cryptocurrency equivalent of IPOs and have allowed just about anyone to invest early in new projects. ICOs now generate 3.5 times more capital than VC funding. This is largely due to how ordinary investors can invest even relatively small amounts of capital during initial phases based on the promise of returns once the token hits exchanges or when the venture eventually flies.
Fundamentals start to matter more than blockchain stocks' volatility.
More investors are looking into a project's fundamentals including: the uniqueness and value of the concept; the token economy; and teams behind the projects. This increased focus on fundamentals may ultimately minimize speculation and the market's volatility; this could even encourage traditional investors to participate.
Investments in cryptocurrency have a global reach.
Traditional investing has largely been geographically limited due to regulation. ICOs, however, open up the game to allow investors from all over the world to participate.
Eventually, time will tell if volatility or ambition will really win out.