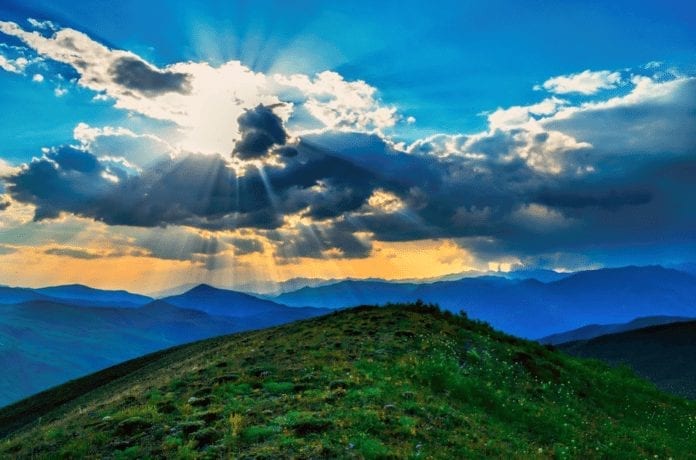 Although blockchain was first developed by Bitcoin, the code that made cryptocurrency possible has many uses outside the financial sector. The secure ledger can be used for a variety of uses like land records, supply chains and internet to name a few. India's use of blockchain to improve land ownership records in was discussed in the previous article India rejects cryptocurrency, but, plans to implement blockchain technology. This article also focuses on another promising aspect of blockchain technology: powering the cloud!
Google is working with blockchain to support its cloud business and remain competitive among emerging startups using the technology to operate online in innovative ways.
Companies use blockchain-based digital ledgers to securely process transactions over the internet. Google could use blockchain to reassure it customers that their information is protected when stored on its cloud services.
Google's Alphabet Inc. unit is developing its own distributed digital ledger for the use of third parties to post and verify transactions, according to Bloomberg sources. Although Google has not officially stated an official release date, they hope this will differentiate its cloud service from rivals. They will also provide a white-label version which can be used by other companies to run on their own servers.
From 2012-2017, Google has acquired and invested in startups based on blockchain technology.
In fact, Alphabet was even a leading corporate investor in blockchain last year, ahead of Citigroup Inc. and Goldman Sachs Group Inc., according to research firm CB Insights.
Several people in Google's infrastructure group working under cloud chief Diane Greene have worked with blockchain protocols in recent months. Google insiders told Bloomberg that the cloud business is a natural fit for blockchain related services. "Like many new technologies, we have individuals in various teams exploring potential uses of blockchain, but, it's way too early for us to speculate about any possible uses or plans," an anonymous Google spokesman said.
In 2016, Google started a trial for developers testing blockchain services on its cloud, but, is now exploring much more expansive ways to deploy the technology.
The technology presents both challenges and opportunities for Google. The distributed networks of computers running digital ledgers inherently help eliminate risks connected to centralized information storage. As one of the largest holders of information in the world, Google needs to remain constantly vigilant regarding security.
To build its digital ledger, Google researched technology from the Hyperledger consortium. Blockchain is not the only form of digital ledger so the company could opt for another type more easily scaled to run millions of transactions.  "Any time there's a paradigm shift like this, there's an opportunity for new giants to emerge — but also for incumbents to adopt the new approach," said Elad Gil, a startup investor who once worked on early mobile projects at Google.
Google's advertising chief, Sridhar Ramaswamy, said at a recent conference his division has a "small team" looking at blockchain, but, noted the existing core technology isn't capable of quickly processing a lot of transactions.
Alphabet's main strategy to keep up with emerging technology is to back startups in the field and make small acquisitions to recruit the most promising talent. According to CB Insights, Alphabet's venture capital arm GV has invested in: wallet service Blockchain Luxembourg; financial transactions network Ripple; cryptocurrency asset management platform LedgerX; international payments provider Veem; and now-defunct Buttercoin.
Google isn't the only one getting in on blockchain.
The market for blockchain products and services may grow from $706 million last year to more than $60 billion in 2024, according to WinterGreen Research; Google will have to stay on its toes. "You're going to see an unbelievable amount of R&D expenditures go into this," elaborated Jeff Richards, a managing partner at venture firm GGV Capital. "Everybody learned from the internet and mobile that you can't afford to wait."
Some marketing firms have started to explore the potentional of blockchain to allow digital ad buying without using the two dominant industry players, Google and Facebook Inc. Tech giants, IBM and Microsoft Corp. have so far led the charge in offering blockchain related tools which allow companies to work with digital ledgers using their cloud services. Amazon.com Inc., helps companies build blockchain applications, and Facebook chief Mark Zuckerberg is looking at cryptocurrencies, encryption, and other decentralized computing approaches.
A slew of lesser known startups are also trying to challenge Google by using digital ledgers. Brave is a web browser trying to compete with Google's Chrome, but, instead of running targeted ads, Brave uses blockchain technology to pay websites based on page hits. Meanwhile BitClave is a search engine whose users get rewarded for seeing ads. Another project, Presearch, is yet another blockchain startup trying to compete with Google's search engine, according to the company's white paper.
Whichever company ends up dominating the blockchain world, all the competition and investing should produce innovative results.