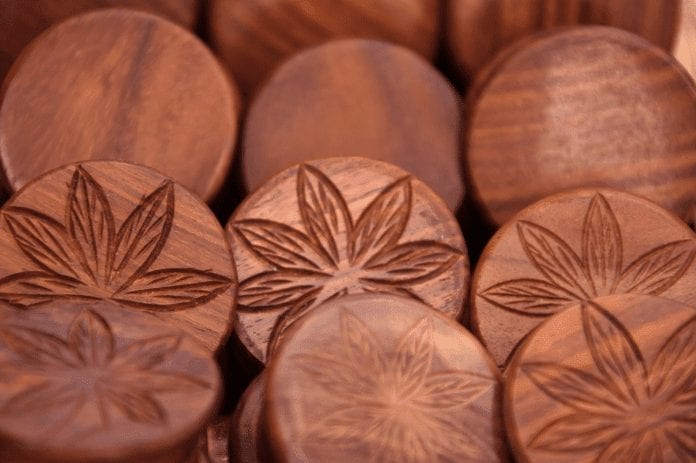 Bitcoin is far from the the only notable cryptocurrency available.
As the original pioneer of cryptocurrency and its underlying code blockchain, bitcoin tends to get most of the mainstream media attention surrounding these new technologies. While its volatility and innovation make it worthy of the buzz, bitcoin is certainly very far from being the only notable cryptocurrency available as an investment option.
Known as altcoin, alternative forms of cryptocurrency are also booming in popularity with news ones launching regularly. For a rundown on some of the most popular altcoin, check out our article Beyond Bitcoin: A lineup of other cryptocurrencies. Each altcoin has its own features and focus; comparisons to bitcoin are often a factor since some aim to solve issues like scalability which have been obstacles for gold standard of digital coin.
The altcoin featured in today's post highlights two overarching trends of the past couple years. First: that the legal marijuana industry is expanding – and second: that the surrounding politics are increasingly weird.
Marijuana-focused cryptocurrency Potcoin is now enjoying its time in the blockchain news spotlight thanks to a meeting no one could have predicted would ever occur only a few years ago.
Now that the line between political news and reality TV has been blurred into obscurity, we've seen Kim Kardashian influence prison reform and athletic badboy Dennis Rodman influence global cryptocurrency stocks.
Potcoin soared in value on Tuesday after the former NBA star turned reality TV persona was spotted in Singapore wearing the digital coin's official t-shirt during a historic, bizarre, and highly publicized meeting between U.S. president Donald Trump and North Korean leader Kim Jong-Un as the two discussed a joint agreement.
Potcoin is justifiably branding itself as THE preferred cryptocurrency for the legal marijuana industry.
It promises fast transactions, low fees, and a blockchain built on the proof-of-stake model. While it's still early and a bit unclear as to just how precisely this digital coin offers significant advantages over larger, more general use altcoin like ether – this cryptocurrency definitely has the advantage of branding, a niche market, and now media publicity likely to be watched and re-watched for years to come.
Cryptocurrency price tracker CoinMarketCap listed Potcoin on Tuesday at a price of 10 cents per coin representing an 18.16 percent rise over the past 24 hours. It reached a market cap of $21.2 million and a 24-hour trading volume of $950,000. In the wider cryptocurrency space, these figures are still considered modest but impressive since CoinMarketCap ranks Potcoin as already the 315th-largest cryptocurrency as of Tuesday morning.
The gains in the cryptocurrency Potcoin and this increased public acceptance of blockchain stocks in the wake of Rodman's highly-publicized trip are undeniable.
Since this footage is likely to be aired and dissected for a long time to come, this altcoin may have the staying power necessary to rise to the top. Rodman's trip to Singapore was, in fact, even sponsored by the hot, new Potcoin and hence at least part of the reason he chose to wear their branded shirt along with the telltale red and white hat the entire time he was on camera.
Potcoin also sponsored Rodman's previous trip to North Korea in June 2017. During that visit, Potcoin surged from nine to 16 cents in value. Furthermore, it was on that very same trip that Rodman gave minister Kim Il-Guk a copy of Trump's Art of the Deal which arguably may have laid the groundwork for this week's surprising meeting. Perhaps the old cliche is true that "politics makes for odd bedfellows."
This high-profile bitcoin news and increased name-recognition for both blockchain and cryptocurrency were a pleasantly unexpected bonus from this recent socio-political meeting.
Rodman became an unlikely self-appointed diplomat in relations between the United States and North Korea due to his close personal ties to both countries' unpredictable leaders. Rodman is rumored to have been the first American ever to meet the North Korean leader. He went on to reportedly tell Kim during a 2013 Pyongyang basketball game that they had "a friend for life" in each other.
Rodman's self-described philosophy of "basketball diplomacy" was the subject of comedic satire on programs like 30 Rock as well as harsh criticism from the sister of a prisoner held in North Korea named Kenneth Bae. She described Rodman's antics as "games…at my brother's expense."
The star also has a significant connection to Trump after having appeared in the second and sixth season of Celebrity Apprentice in 2009 and 2013. Despite being fired in the sixth episode of the latter season for spelling Donald Trump's wife's name wrong, the two remained chummy. Rodman described Trump prior to the summit as "one of the best negotiators of all time" and "a friend."
Potcoin, one of the most promising new forms of cryptocurrency and a major player in the widespread acceptance of bitcoin stocks, has already benefited hugely from this wise business association.
Appropriately enough, Potcoin commemorated the meeting between the two leaders as an important moment in world peace by sharing an image of the two with Rodman photoshopped in the middle and the cryptocurrency logo juxtaposed prominently at the top.
It remains to be seen what the long term impact on global politics and economy, cryptocurrency and otherwise, the meeting will have. How it has already affected and will continue to impact both Rodman's career AND the likely meteoric rise of Potcoin is already crystal clear!