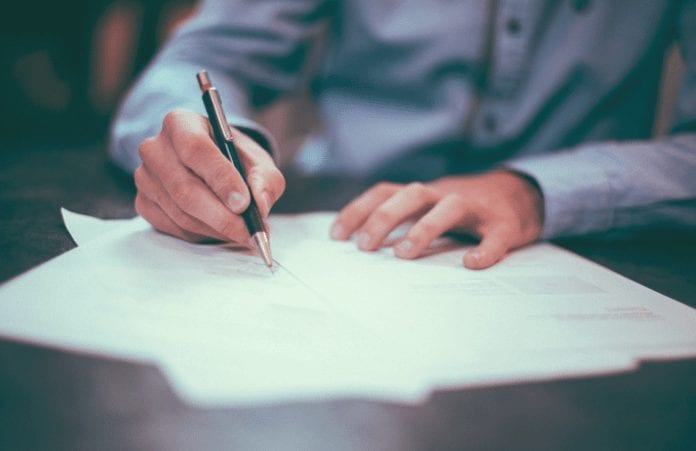 Much recent cryptocurrency news might have you concerned that an increasingly volatile market combined with global efforts at regulation could have a ripple effect on U.S. policy. While a lot of legality depends on the state, precedents set by one can be an indicator of how other states will proceed in the future when presented with similar issues.
The bill was originally passed by Wyoming's House of Representatives on February 20, 2018 and exempts various types of cryptocurrency assets from securities laws. It is now headed to Governor Matt Mead for signature at which point it will go from being a bill to becoming an official law.
Public records indicate the bill passed by a vote of 27–3 with no senators abstaining. This final vote was originally planned for last week but was delayed unexpectedly for further discussion. Despite the hold up, lawmakers have now completed work on legislation to exempt cryptocurrency from state money transmission laws. They also approved the use of blockchain based records by corporations.
Ultimately, lawmakers intend for this cryptocurrency legislation to carve out space for tech developers working on creating utility tokens.
The exemption provided by the House Bill 70 would be directed at those utility tokens which are neither marketed nor promoted as investments. The utility tokens are able to be exchanged for goods and services, however.
A groundbreaking new law, HB 70 provides legal guidelines on how certain types of cryptocurrency tokens are classified and subsequently taxed. In a parallel development, HB 19, dubbed the "Bitcoin bill," is also steadily making its way through the Wyoming legislature towards becoming a law. It also unanimously passed in the House and exempts cryptocurrency from the state's money transmission laws.
In more ways than trailblazing for blockchain, Wyoming has pioneered advancements in various other areas of governing.
Wyoming is a state known for its rugged individualism and lax corporate regulation and taxation. Its western frontier heritage often gives it a pioneering attitude when it comes to governing. It was the first state to grant women voting rights and the first state to elect a female governor.
Wyoming originated the Limited Liability Company ("LLC") in 1977. Today, nearly two-thirds of businesses formed throughout the U.S. choose the LLC corporate entity format. LLCs formed in the state of Wyoming are on par with better-known Nevada and Delaware corporations in offering stellar asset protection.
Now, Wyoming seeks to be the first state to embrace cryptocurrency as heartily as it, and most states, embrace traditional forms of business.
Wyoming's pioneering attitude towards cryptocurrency and blockchain was previously reported in recent articles including "The "Bitcoin Bill" Initiates Blockchain Legislation in Wyoming" and "The State of Wyoming organizes to lift cryptocurrency property tax" for those who want a more detailed history of how Wyoming arrived to signing cryptocurrency regulation into law.
A Wyoming native and former Wall Street wiz, Caitlin Long, is the co-founder of the Wyoming Blockchain Coalition and former chairman and president of enterprise blockchain company Symbiont. She has been an ardent champion of the blockchain legislation discussed in today's post.
Caitlin Long explained to Bitcoin Magazine how "HB 70 is one of five blockchain bills supported by the Wyoming Blockchain Coalition, and four are already in the Governor's inbox (the fifth is likely to pass tomorrow)."
She continued, "The Governor has three days to sign the bills, and most of them take effect immediately after he signs. All five are designed to attract software companies to move to Wyoming, as well as to attract businesses to register in Wyoming even if they don't move there."
According to Long, HB 70, aka the "utility token bill," is the first time ever that an elected body has recognized utility tokens as a distinct asset class that is neither categorized as a security nor as money. She explained that while the bill gives the blockchain industry a friendly environment in which to operate, it does not resolve the federal regulation issues regarding utility token. Hopefully, Wyoming's law can help set precedence in litigation and influence federal policy, however.
According to Long, two of the other five bills for which she is advocating are designed to be cryptocurrency friendly by exempting cryptocurrency from both Wyoming's money transmitter laws and property taxes.
Wyoming already has absolutely no income taxes nor franchise taxes, so it's already quite appealing to cryptocurrency based businesses and cryptocurrency owners.
Finally, Long pointed to the last two bills aimed at attracting more businesses to register in Wyoming. Wyoming ranks third in the United States after Delaware and Nevada for the number of new business registrations.
She concluded her comments on a competitive note; "The race is on to see which state, Wyoming or Delaware, will be the first to accept registrations in blockchain form. Game on, Delaware!"