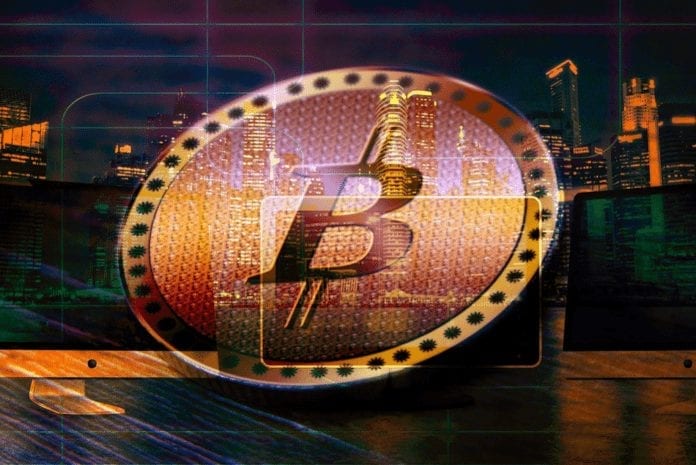 Almost all markets are volatile to one degree or another, hence the old adage "the greater the risk, the greater the reward;" a stable, safe market with completely predictable behavior rarely yields much return on investment.
The more cutting edge the industry, however, the more volatile its market.
Blockchain and cryptocurrency based assets are at the height of the cutting edge intersection of finance and technology; the volatile behavior observed for companies like Bitcoin and Ethereum is not surprising.
As with any market, the key to sharp investing is to pay attention to larger patterns over time versus getting hung up on short term gains and losses. Part of this strategy involves investing patiently, giving stocks years to mature in valuation and only spend money you can afford to never see again unless you do this for a living.
All that said, it is possible to examine recent trends in relation to historic behavior to predict what 2018 has in store for cryptocurrency juggernauts like Bitcoin and Ethereum, particularly in light of another drop in the past week. Despite that drop, experts remain optimistic regarding the future of both Ethereum and Bitcoin.
According to a market survey, Ethereum is predicted to see a more dramatic increase in market capitalization this year than the current market leader and original cryptocurrency, Bitcoin.
The South China Morning Post, Finder, a consumer product and services comparison website, reported on its survey of nine blockchain industry participants regarding their predictions and opinions of the top 12 cryptocurrency tokens.
Their study indicated that Ethereum will gain the most with a 212 percent increase followed by Bitcoin, at 194 percent. Bitcoin Cash, meanwhile, is expected to increase 123 percent to come in at third. If you are unclear exactly on the differences between Bitcoin and Bitcoin Cash, check out "What is Bitcoin Cash?" for details and background.
Despite the percentage increase, Ethereum will still only maintain the third largest price tag per token, with each ETH expected to cost $2,550. Meanwhile, Bitcoin is predicted to trade at $29,533 a token despite some claims that we could see a price per token between $50,000-$100,000 by the end of the year. Bitcoin Cash, meanwhile, is expected to trade at $2,721.
The survey's participants have bullish expectations of Ethereum due to the widened applicability of its underlying blockchain network per the South China Morning Post.
Ethereum is the blockchain of choice for any startup looking to launch an Initial Coin Offering (ICO), as well as being used for smart contracts in other industries.
Despite the optimism, there still loom concerns over Ethereum's (and Bitcoin's) scalability issues. Kevin Loo, co-founder and chief strategy officer of CryptAM, explained to the South China Morning Post "as an example, in November 2017, the ethereum network saw a new craze for CryptoKitties, a virtual kitten game which lets players buy and breed 'crypto-pets'. This slows the network down and highlighted one of the challenges facing older blockchains – a lack of scalability." (CryptoKitties were also discussed in "Why Ethereum Could Hit $4,000 In 2018.") Ethereum has established its brand in the more mainstream cryptocurrency world with a listing on Coinbase, however.
The original and most known of all cryptocurrency, Bitcoin, will likely continue to dominate in 2018.
SJ Oh, a trader and vice-president at Hong Kong-based cryptocurrency broker Octagon Strategy described how "Bitcoin still accounts for an outsized portion of our flows [today]. To put it in perspective, average daily Bitcoin turnover is still more than three fold that of Ethereum."
Bitcoin's price nearly hit $9,000 on Thursday of last week just hours after the cryptocurrency briefly went back above $10,000. According to CoinDesk's Bitcoin Price Index (BPI), the price hit a low of $9,075.87, but, has since been recovering. As of this writing, according to Google, the cryptocurrency's value is $9,178.60. Just last week, the market saw a $1,000-plus drop during afternoon trading.
Observers attribute this volatility to several factors including: issues at cryptocurrency exchange Binance; a warning from the U.S. Securities and Exchange Commission about exchange compliance; and a report from the trustee of Mt Gox revealing that  $400 million in bitcoin and bitcoin cash had been liquidated over several months.
While most cryptocurrency tokens are experiencing a drop, the overall historic performance is the best indicator when seeking blockchain stocks as long term investments.
Some speculators on social media suggested that the price could be a prediction of even lower levels; some predict a slide to as low as $7,000. Should bitcoin's price fall below $9,000, it would be its the lowest level since February 14 of this year.
Cryptocurrency information provider OnChainFX shows that all of the top-10 cryptocurrencies by market capitalization are down today with cardano and bitcoin cash  dropping the most by 8.59 percent and 6.95 percent, respectively.
Again, for the patient investor of either Bitcoin or Ethereum, the focus should be on the big picture. "How has the cryptocurrency behaved over the past few years?" and "Do short term trends fit into a larger pattern?" are pertinent questions.